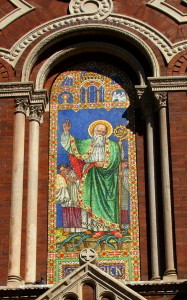 My latest article for A Sense Of Place on Patheos Pagan is up. Like my previous article on A Pagan Short History Of Valentine's Day, it is a short analysis of a popular holiday in our culture.
I find it interesting that these two posts have been by far the most popular of my writings at Patheos thus far. For me, the Elemental Ethos series I have been doing (Earth, Air, and Water thus far) have far more meaning to me, in that they are a reflection of how I try to live, and contain useful, real world applications of what I perceive to be a useful pagan ethos. Yet these haven't been nearly as popular as my admittedly snarky deconstructions of the two popular holidays. Ah well. I have said all along that I will write what I feel for Patheos, without regard to aiming for a particular hit count or targeting my posts to a particular audience or reaction. It's just interesting to observe.
Some have commented that the notion of St. Patrick as The Great Oppressor Of Ireland Who Converted The Pagans/Druids With The Sword is historically inaccurate, and they are concerned that this myth just won't seem to die. I agree completely, and I don't want people to think this is my claim in this post. On the contrary, the meme is what it is, and it is not particularly accurate. I wanted to deconstruct the meme on its own merits, without regard to whether or not it is historically accurate. It self-deconstructs, in other words. My post just helped it along a bit; hopefully in due time it won't have the widespread acceptance that it has today.