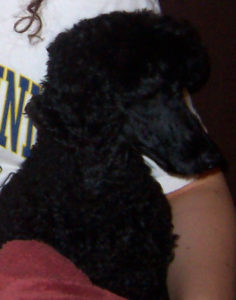 So we added a new family member today. We adopted a dog — her name is Dixie (see note below) Doxy, and we don't want to change it because she knows it and responds to it. She is 5 years old, and for the first 4.5 years of her life she belonged to a breeder.
She's a bit skittish, and very shy. For the most part her movements are slow and deliberate, with some exceptions: if she thinks she is in trouble, she flinches and cowers, and is very fearful.
We were told she had 2 litters, one via conventional birth and one via C-section. Part of me suspects they said this merely because any vet will know she's done both at least once. I can't help but wonder if she's had more. She seems tired, and acts older than her 5 years. Edgrrr, our other dog, is more than double that age and exhibits more energy (of course we've had him since he was a pup so he's much more comfortable and less traumatized).
She will have a much different life with us. It will be calmer, with far fewer other dogs to compete with, in a calm environment with lots of love and affection. I really look forward to seeing her personality unfold in the coming weeks & months.
So the parable? What happens if we view the Earth as something to love as opposed to something from which we can extract products to sell?
(UPDATE, 4/25:  we have officially changed her name to Doxy. We couldn't stomach Dixie, and she still responds to Doxy. We also considered Pixie. She is still adapting well, settling in and getting comfortable. Her bark is adorable, but we've only heard it once so far.)